This could also be called "Seat Recovering 101".
Here's a pretty chair that has made the rounds.
It was originally part of a set that my mom bought for our dining room when I was a young teenager. She found them in the classifieds section of our local paper.
They served us find for years. My mom eventually bought a new dining set right around the time that I got my first apartment, so the old dining set (a 70s table and 5 redone antique chairs) came with me. Shabby Chic was just become the thing at the time, so I remade the chairs with distressed minty green paint and softly colored plaid seats.
Eventually I bought a new dining set, so the table and 4 of the chairs went in a garage sale. But I kept this captains chair (the other 4 were armless). I use it primarily at my crafting/sewing work table. It still sports the paint scheme I gave it 13ish years ago.
I gotta say, I'm pleased it's not that out-of-date. It still looks ok to me. But my tastes are changing slightly. I still like time-worn finishes, but I like bolder and more modern things too. So it's time for a makeover.
True confessions time. I bought too much black and white fabric.
I only needed 3 1/3 yards for my
ottoman makeover
. I was nervous about that project and bought 5 yards. Normally I'd pick out a new fabric for this chair, but the cheap side of me is just going to use what I already have. I'm sure it will be fine, it will just be a little more matchy-matchy than I originally wanted.
(channeling my kids' whiney voice) But I don't like match-matchy.
I'm trying to get over it.
Have you ever recovered a chair with a fabric seat? Don't be intimidated. It's super easy. Flip the chair over. You'll see 4 screws.
See the black dots in the cross braces? Those are the screws.
Take out the screws, and the seat will pop right out.
Cut out a piece of fabric large enough to wrap around the back.
You'll be wrapping the fabric around the back and stapling it.
I alternate opposite sides when stapling. For instance, I'll do a row of staples across the top, then I'll staple the bottom (while holding the fabric taught). Then a row across the left side, then the right (stretching fabric taught again).
Alternate sides when stapling.
Leave corners for last.
When you're finished, just screw the seat back in. A couple coats of white semi gloss finish off this chair makeover.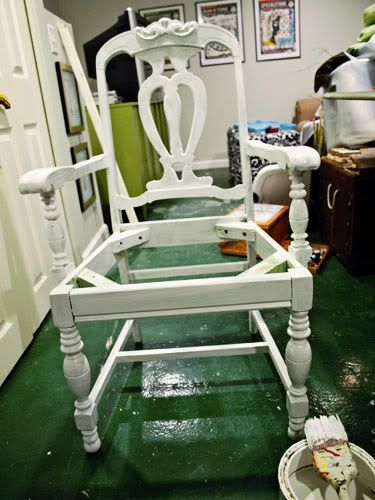 Before:
After:
Did you notice my work table got a makeover too? More on that
tomorrow.
In the meantime, linking to some of
these
great parties.
Now go make something!