We're moving right next door. From the kitchen to the half bath.
It's a teensy, weensy little space. Room for a potty (Am I mom or what? Potty. heh heh) and a pedestal sink.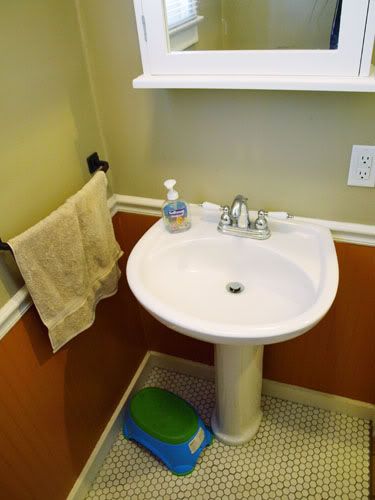 On the plus side the ceilings are quite high.
When we moved in I put in a (pardon me) boob light. I know, shame on me. I'll get rid of it, k?
I think this space is screaming for a glam-ulous chandelier.
On the floor is super cute hexagon tile.
It's good enough for now, but here's my problem with it. 1. It wasn't installed the best. Can you see by the toilet it obviously shifted? 2. All the grout lines hold dirt. And that's a lot of grout lines, my friend. 3. It's such a small space, I'd like the flooring to match (eventually) with what is in the hall way. For flow and what not.
But that will have to wait. I like hexagon tile in general, so I think it will be fine for the time being.
Now the plan: The top is now a taupe, which is perfectly fine. And boring. I'd like something bold and beautiful. Why not? Below the chair rail is the same orange from the kitchen. I'll just do that the same antique white that the kitchen is now. So light on the bottom, bold and gorgeous on the top. Maybe a fun ceiling color? Definitely a chandelier. New artwork = completely new look!
Stay tuned!