Ya know I LOVE me some pillows. Find some pillow embellishment tutorials
here
and
here
. I'm so excited to share another tutorial, this one a spectacular, HUGE felt flower pillow.
What you need:
Half yard of felt.
Matching thread.
Fabric glue.
Scissors.
Pinking shears (zig zaggy scissors).
Fiberfill or pillow insert to stuff the pillow.
Needle for a little hand sewing, plus a sewing machine for some very basic sewing.
First start with a half yard (18 inches) of felt off the bolt (not the little squares). I bought this at Joann Fabrics. It was normally $6/yd, but was on sale for $4/yd. So a half yard was $2 + tax.
We'll need to cut an approximately 18 inch circle. If you have something around the house that width, use that. I couldn't find anything, so this is what I did.
The width of the felt is 18 inches, so I made a small mark half way at 9 inches. Then I placed the ruler at that mark and made a mark 9 inches into the felt like this.
Then I rigged up a temporary compass with some ribbon, a pin and a marker. I stuck the pin into the felt and the ribbon, tied the other end of the ribbon to the marker and drew a circle. It doesn't have to be perfect, just close.
Cut out the circle. Use this circle as a template to trace and cut out another circle. Now you have two circles the same size.
Place the circles on top of each other, nice sides facing each other (marker sides out). Sew the circles together around the edges, leaving as much seam allowance as you are comfortable with. IMPORTANT: Leave about a 5 inch hole open, so you can put stuffing in later. Here is what mine looks like, with the hole on the bottom.
Next we're going to cut out some flower shapes. You can use this template or make your own.
We'll need three flowers, a large, a medium and a small. The large one will be about 16 inches. Trace the shapes onto the felt and cut them out. Cut inside of the marker lines, you don't want any marker showing.
My flower shapes aren't the best, partly because this was my first time trying this. Yours will be better. But the nice thing is, it all sort of works, so don't be discouraged if yours aren't perfect either.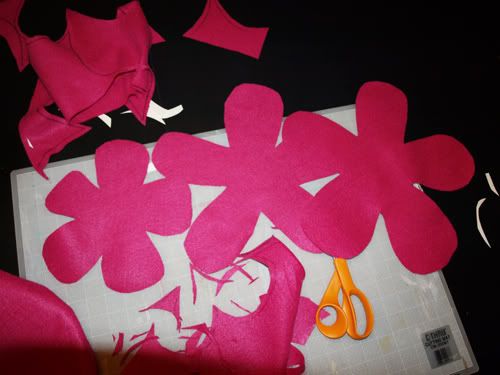 Turn your pillow right side out, and place the flowers on the pillow. Large on the bottom, then medium, then smallest on top. It should look something like this.
Now we'll need to hand sew the flowers on. I added a couple stitches right through the middle, then I also "lifted" and folded each petal and sewed it down for extra dimension. This is easier than it sounds and just takes a few minutes. Here are some pictures.
Using the open hole for access.
All stitched down.
Now we need to make the middle of the flower. Go through your scraps and cut two long strips. Mine are about 16 inches long and 1.25 inches wide. It doesn't have to be exact, but they should be about the same width. Cut one long side with pinking shears like this.
Next use your scissors to make a fringe like this.
We're going to roll this with fabric glue. This is what I used.
Start rolling the fringe, gluing it together every so often. When one strip runs out, just keep going with the second strip.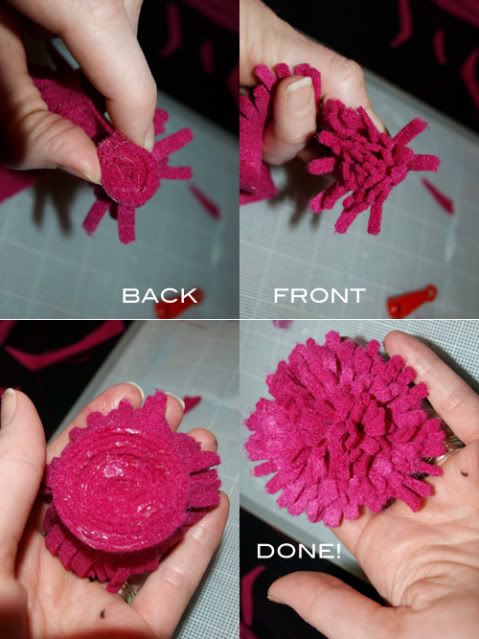 Now you should have a big felt pompom for the center. Just glue the back and stick it on the center of your flower.
Wait for the glue to dry (only takes several minutes). Now stuff your pillow with fiberfill and sew the opening closed (I just fold the edges in and top stitch it on the machine). You have a lovely felt flower pillow!
Linking to some of
these
parties.