See what I did there? I used "bolstering" the verb, and I'm talking about "bolsters" the noun. Get it? AH HA HA HA HA
HA HA
Nevermind.
I have two bolsters. I've had them for ages. And they've always sat on these two chairs.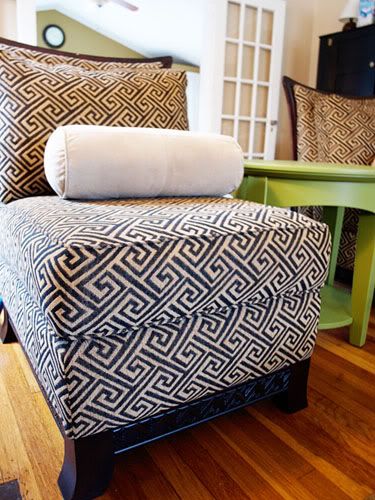 There's nothing wrong with them. They're perfectly fine tan, faux-suede bolsters. Nothing offending enough to warrant them getting tossed.
But I think they lack pizzaz. Despite the bold geometric on these two chairs, this area was rather... boring. What's missing? Then it hit me. Duh.
COLOR.
I hate to throw anything out. And, heck, I'm cheap too. So how about a facelift?
I found the PERFECT fabric. Epic Tale by Waverly. It's the stripe in this stack.
It was a little more expensive than I usually go for at $22/yd. But I only needed two feet (2/3 yd) for this project, which came to about $14.50.
All I did was cut out two identical striped areas, seam the raw edges, and sew it together to make a tube.
Then just slipped it on. Come on, what's easier than that? And a nice transformation for little time and little money... two things I don't have much of these days.
Linking to some of
these
great parties.
Now go make something!