My decorating budget is presently $0.
Zero.
Dollars.
The reason is we have a wee bit of credit card debt. Oh the shame! It's from our airline tickets to Korea to adopt Delaney. So until we get that paid off, I'm going to have to start moving away from the mom cave. Except maybe a couple small things on my to-do list, all the projects I have left are ones that, you know, require actual money.
Just keeping it real, peeps. Real people, real budgets. Even $0 budgets.
There's a reason I am able to move to the kitchen. Our local Menards had free paint last week. Free happens to fit my $0 budget nicely.
Cream and white flat paint was on sale for $11 with an $11 rebate. So I purchased 4 gallons of cream. And semi-gloss white was on sale for $13 with an $11 rebate. Purchased 1 of those for trim.
Dangit! I'm already over budget by $2.
Can you tell I'm stalling because I'm afraid to show you the ugliness? I wish I could blame it on the previous owners. I wish I could say "Orange and red cabinets?! What were those previous owners thinking?" Nope, it was all me.
So, how's the weather over there? Nice and spring-y?
What? Oh, the pictures? Yeah, yeah, yeah. Without further ado...
This is the kitchen layout.
It's not huge, but it's workable. Of course I have plans to make it even more so. And this is what it looks like. Looking from the dining room into the breakfast nook.
You thought I was kidding about the orange and red cabinets, weren't you? Nope.
And the opposite direction. From the breakfast nook toward the dining room.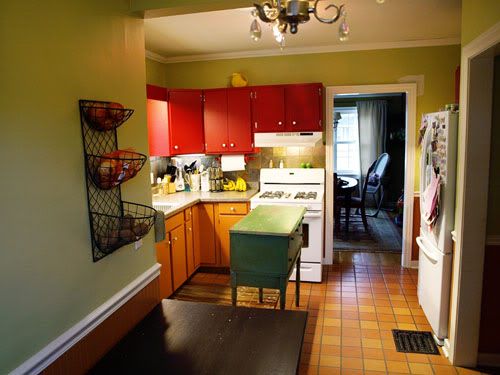 The sink area.
That swiggly black thing is a wine rack. It's quite cool, but looking at it now, I think it needs a home elsewhere.
And the opposite side, the fridge area.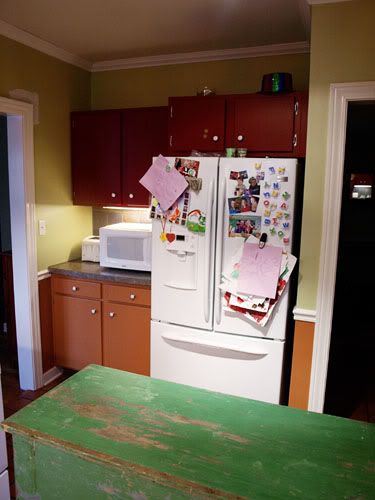 I feel like I owe you an explanation as to why it looks like a rainbow threw up in my kitchen. The orange, fake terracotta floors were existing when we moved in. And I felt like I had to make them look like an intentional choice.
The adjoining dining room was red when we moved in, and I liked red at the time, so I decided to keep it. I found some fabric at HobLob with red, orange and green stripes (in fact they still sell it) and I used those EXACT colors for most of the main areas of my home when we moved in 7 years ago. Really intense, saturated COLOR. And that is why it looks like a rainbow threw up in my kitchen.
We put up the slate backsplash when we moved in. I thought it made the existing laminate look more real.
I don't like it anymore. Any of it.
The appliances are new. We bought them less than a year ago. I have no idea how, but Mr. RBR talked me out of stainless (for some weird reason he doesn't like it). So they're white. And they're staying.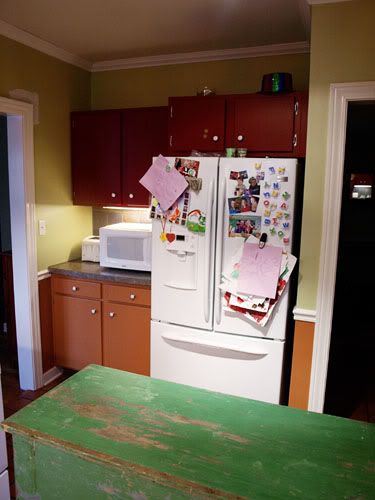 I brought in this buffet for more prep surface and a little bit more storage.
I still like this old thing, but it has to go. This room is way too small for an island. If we can move the microwave off the countertop, I'll have the exact same amount of prep space I do now.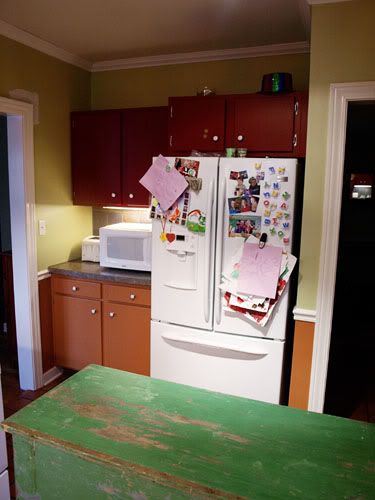 I have major dreams for this space, but our present budget situation means it's gonna take awhile. And I can tell by the pictures, a major declutter and some de-coloring are going to make a big difference right away.
Thanks for looking. I hope you'll stick around to see it through!
Now go make something!