If you've spent any time on this blog you've probably figured out I love
bold
patterns.
Dwell Studio
has some GORGEOUS bold fabrics. Did you know they have a line at
Target
too? It's pretty awesome. In fact when I saw this Plum Blossom motif I knew I had to have it.
But I don't need new bedding. So what to do?
I painted my file cabinet.
Here is the file cabinet before, in the sad neglected basement. Before it became my
mom cave
...
And here's the file cabinet now with a new paint job.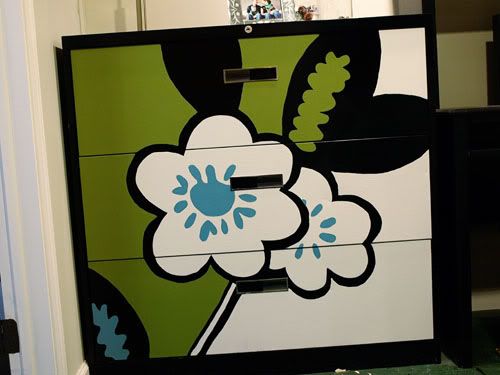 It's almost unrecognizable, isn't it?
All I did was sketch the layout on the drawers of my cabinet with a pencil. Then I just painted in the lines. My cabinet started out black, so I left those areas alone. I didn't paint the black areas. It took 3-4 coats to get good coverage, but it's not a large area so it wasn't that time consuming.
Give it a shot! It's fun to give an old piece new life.
Now you can see why I was so drawn to the black and white fabric I used on the
ottomans.
It has a lot of similarities, don't you think?
Of course I gotta do a before and after:
Linking to some of
these
great parties.
Now go make something!