Work continues on the Mom Cave. If you've been following along, you know the mom cave is in the
basement.
Our basement is a "true basement". No walk out. No full size, light filled windows--no egress windows even. All the windows are glass block and very small and high. It makes it a little claustrophobic. At best it's just very basement-y.
Mr. RBR dumpster-dived some old windows for me. What a guy. :) Honestly he's regretted it ever since because he found a bunch, and they've been laying around for years as I've slowly been finding uses for them.
I think two windows would made a perfect addition above the couch in the mom cave. Here they are, waiting in the "cool junk pile" in the basement ready for their makeover.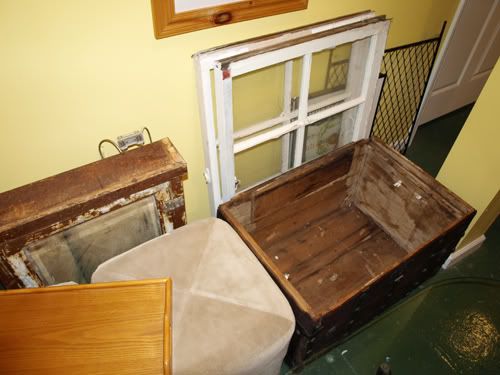 I used two windows that (I think) were a pair. A top and a bottom. After a decent cleaning, I sprayed the back of the glass with Krylon Looking Glass spray paint.
Looking Glass spray paint gives a mirror like finish to glass. You simply give a few coats to the BACK of the glass. That's it!
Looking Glass spray paint has the perfect level of reflection for this project. It's not super highly reflective like a mirror. It's almost old and smoked looking. Perfect for these old windows.
I found this spray paint at Hobby Lobby, but you can find it at other craft stores or online. The cans are pretty small, and I used 2 cans--one for each window.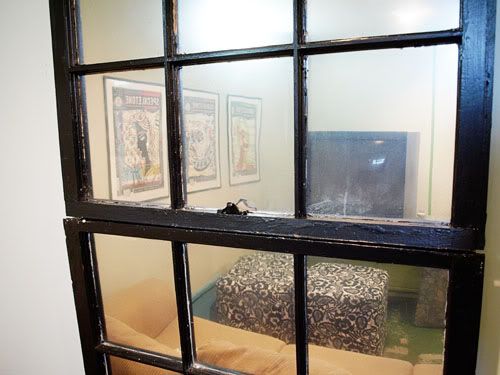 Then I painted the front side of the windows black because there are a lot of black accents in this room. I removed the latching hardware from the bottom window, so I could get the windows as close together as I could. The latch was in the way. Next I attached the windows together with some reinforcing hardware (got this at Lowes).
Hung it up behind the couch with some wall anchors....
Ta Da!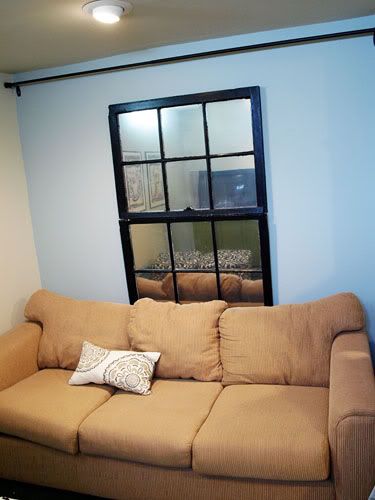 A room with a view! Sort of. It's kind of fun, don't you think? It certainly brings a sense of lightness to the space.
Soon I'll add some curtains, and you won't even recognize this wall! It's already an awesome transformation. Take a look at this progression. It's all the same wall.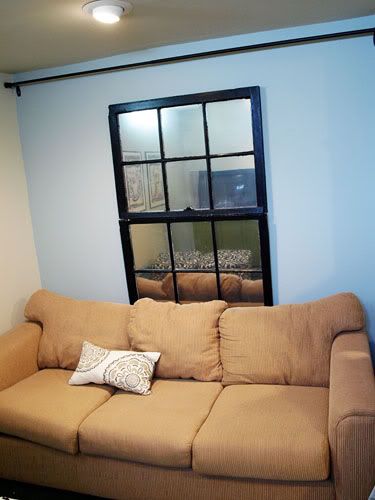 Looking for another window project? Check
this
one out.
Linking to some of
these
great parties.
Now go make something!