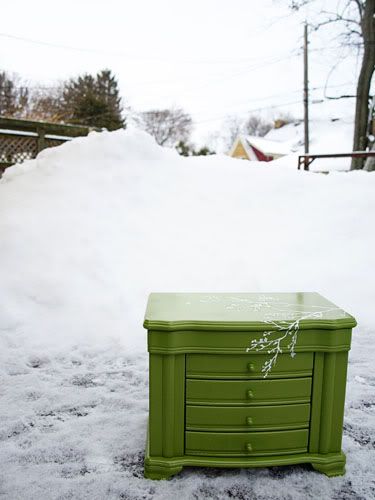 Several years ago I asked Mr. RBR for a jewelry box for Christmas. I'm usually not extremely picky and didn't feel the need to pick it out myself, but I did ask that it be 1. large (larger than the one I had at the time) 2. Be white 3. Have silver hardware.
Mr. RBR found this.
It's not tooooo bad. The size and functionality of it I love. It's worked well. But I've never loved the finish.
Mr. RBR said he looked everywhere, but couldn't find something that was large and white, let alone with silver hardware. This finish is kind of halfway between cream and pickled oak. You can't really tell in the photos, but there's a pickish hue and some wood grain showing. And the brass just didn't go with our bedroom decor.
But now that our bedroom is getting a refresher, why not change it?
I started with some spray paint. Just give it a light sand and paint away. The drawers on this jewelry box shut pretty tight, so I didn't even bother to take my jewelry out.
Don't be like me.
Here's what it looked like after 3ish coats with some spray paint. I liked it. I thought it looked nice!
But why not take it over the top? I decided to put a little handmade detail on it. Something branchy. I got me some spring fevah! I got a large artist's brush and practiced on some scrap paper.
Uh oh. I might be in trouble. That sucks.
To the internet for some inspiration!
Um, yeah. Something like THIS!
So I printed out the inspiration on my home printer. I got out a teensy tiny artist's brush and some regular white semi gloss trim paint. I found the paint was a little too thick and clumpy to get the small detail, so I added a few drops of water right on the paint lid. Then I just went for it!
It was a little scary, but I figured if I hated it, all I needed to do was re-sand and re-spray. No big deal. Luckily it turned out very nice! It's not hard. Give it a try! Find some inspiration. Practice before you paint your piece. Go slowly--take your time!
Nah, I liked the gloss, and I didn't want to cover it with matte. If I had gloss spray sealer, I would have sprayed the whole thing. Instead I sprayed a little matte sealer right in the cap. Stuck my brush in there and painted over top all the white areas I wanted to protect. After I was finished I immediately cleaned my brush with mineral spirits so it stayed nice.
All done! Here it is in its new home.
You think if I brought it outside it might inspire spring to come sooner?
Hmm... Not working.
It's still pretty. One more before and after.