Today we go from Candice Olson to the thrift store. Um, slightly less sophisticated.
I had a ball (really!) piling up the kids in the ol' mini van and making the trek to a few favorite thrift stores. On the way there I told my two boys if they were good (no screaming, no running, no fighting) then we could go to McDonalds. Worked like a charm--for once! ha!
I ended up spending $60 on this craptastic-ness.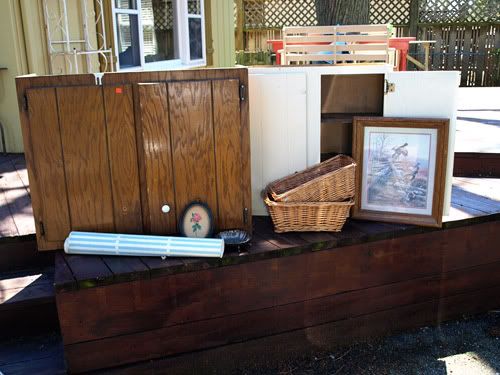 What did I get? Two upper cabinets ($30 for the brown one and $15 for the white one).
A couple baskets ($2 each) and a frame ($4).
A pretty little vintage rose painting ($2), a heavily tarnished silver dish ($2), and that white strip that isn't photographing well is vintage wallpaper (thrown in for free when I bought the cabinets!).
Here's a better view of the wallpaper. The outside is heavily battered, but unroll it a bit and it looks great.
I think it's quite modern. I actually really like it! I won't be wallpapering with it, instead I'll use it to line cabinets.
I bought the baskets at a separate store than the cabinets, but was happy to discover they fit! WOO HOO
Going to try to polish this dish. I thought it'd be a perfect spot to rest jewelry. Maybe even a soap dish? If it doesn't polish well I'll spray paint it.
So what do you think? Trash or treasure!?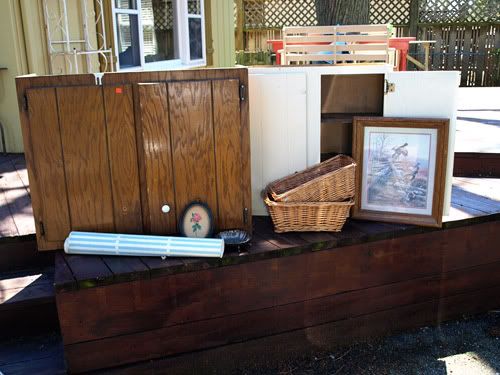 PS. good thoughts to all dealing with the aftermath of the tornadoes. Be well.