I'm puttering along in the kitchen. Does it look different?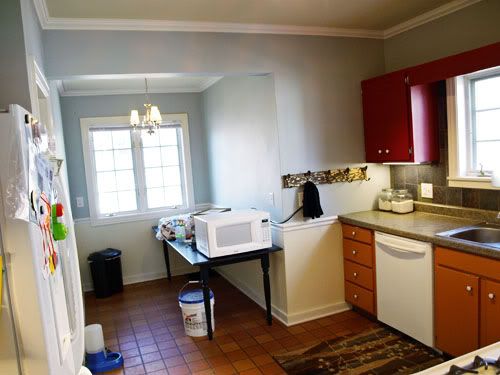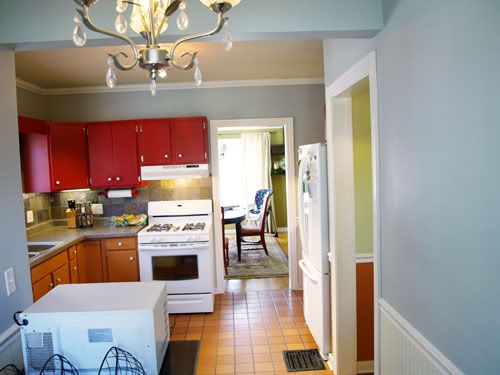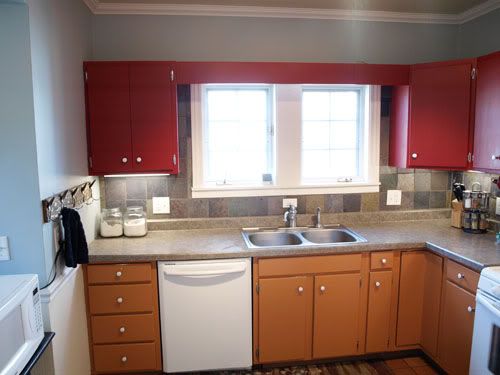 Here are a couple before photos so you can compare.
In addition to painting, I did quite a bit of decluttering. I was even able to remove the "island". Holy moly. I feel like we put on an addition! It's so rooooooomy! Kind of embarrassing to admit, but I was doing dance moves in the middle of the kitchen. Why didn't I do this years ago?!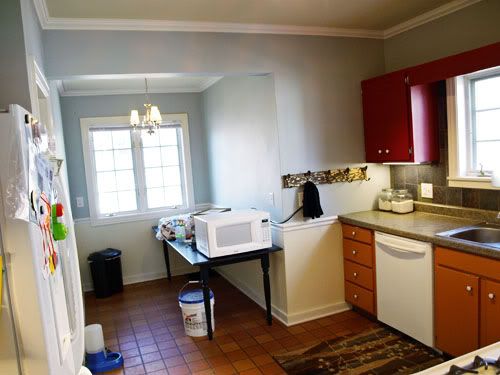 The microwave is temporarily on the breakfast nook table, until we can buy a new one to go over the stove. At least that's where I think it's going to go. I also still have some trim paint to do. And I also have to paint behind the refrigerator, but I thought I'd wait to paint behind the fridge until I figure out what to do with the cabinets.
So, what should I do with the cabinets?
I really want new cabinets and floors. Reallyreallyreally. But it's so not in the budget right now, it's not funny. If it were going to be in the budget 6 months from now, I might just leave the cabinets. I think it's going to be a good deal longer than 6 months. Time for a temporary solution. I'm going to replace as little as possible, and paint instead.
Here's the dilemma. Light or dark? I feel like the space is pulling me in different directions. The counter and backsplash say "Dark! Paint us dark!" The appliances say "No way! It's white all the way!".
Am I wrong? I love dark counters with white cabinets, but this counter has so many "grungy" undertones I think it will look, well, grungy. And then the rest of the kitchen will be light and bright with grungy counters and dark backsplash. I don't think it's gonna work.
And if the cabinets were painted dark? I think it'll blend with the counter and back splash beautifully. But then of course my appliances would stick out like sore thumbs.
Argh. I gotta think about this awhile. I may just do a happy medium. A medium tone! That might be the ticket. But I'll have to find just the right color.
Maybe I'll move on to the half bath while I think this over.... (Half Bath "before reveal"
tomorrow.
)