Here is what's coming up in the baby's room.
What's going up there, you ask?
My mom found two Asian paintings (not prints!)... somewhere. Who knows. I think they're Japanese. It's hard to see in the photo, but they need a bit of work. The mattes are water stained and damaged, so they need new mattes. I'll paint the frames. They they'll be perfect.
Got the letters. Just need to paint. Again. Paint, paint, paint. Paint some more. And then for a change I'll... paint.
You remember this, don't you?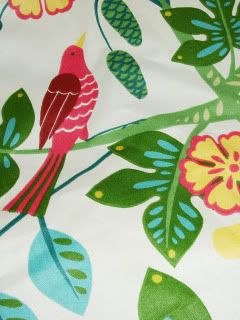 I know. It's a little wild. How could you forget? The fabric is called Small Talk and it's made by Waverly. Remember how I said it'd be big dramatic curtains? Girls need drama in their life. It's just the way it is.
Oh, it's just me? Darn.
Here's where the curtains are going.
Yep. The whole wall. The entire wall behind the bed.
Next to the bed will be a vanity/desk in place of a nightstand. There will also be a chair makeover.
Eek! Do not look at the mess around the chair. Only look at the chair. STOP LOOKING AT THE MESS!
Speaking of mess--lots to do! Better get busy. Till next time.