Too bad I didn't think to start this blog before I started the first room. Ah well, we'll play a little catch up.
I'm kind of excited about my first after shots! I know that "theme rooms" are sort of out. But my boys really love cars and trucks. And not just any trucks. MONSTER TRUCKS.
I have two boys (ages 2 and 4) that just started sharing a room, and I wanted it to be really special for them. A room they'd always remember.
Heh, heh.
How will they ever forget this?
This is the wall mural I painted in their new big boy room. It was based on the Tonka Monster Truck illustrations. I freehanded it (well, I used some tools like a straight edge, but no stencils). The boys just love their "cool monster truck" room.
The best part is I used all left over paints. 100% free, baby! Stay tuned for a tutorial to make your own. The shelf was a flea market find from years ago. I painted it red to match the room. Blue, green and orange frames I bought years ago from Hobby Lobby. Artwork was a gift from a friend at my baby shower.
Close up.
Here they are climbing all over their big boy beds.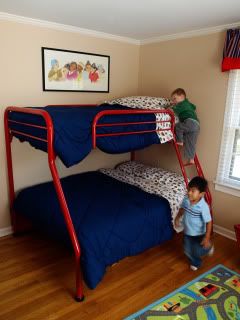 Bunk beds were a $50 craigsl!st find. Navy and red comforters from JC P*nney.
Another view.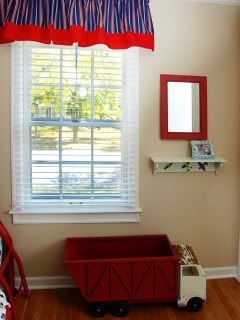 Sewed the valances myself. I love that old wooden dump truck. Found it at an old run down antique shop while on a drive with a friend (same friend that bought the artwork, Hi Livvy!). A great memory.
Another view.
Got this wooden train at a second hand store. Plaid, navy and truck pillows from T@rget.
Like most rooms in the house, there's some final touches left to do. The boys' names will be hung in the sky on the left. A picture or two and I think that's it.
And just in case you were wondering, this is the cleanest this room has ever been. And it is already dirty.
The end.
Linking to some of
these
parties.