You saw the
boys room
. ALL BOY. Monster trucks. Cars. Blue.
The baby's room? Girly, girly, girly.
Oh well. At this stage they don't have much preference so it's up to me. And I think it's cute.
I thought I did a ton of work the past couple days, but looking at the pictures now I just don't see it. Argh. I hate that!
Before pictures were taken Monday. After pictures Wednesday.
If I would have thought of starting this blog before I started these makeovers, here's where I would show you the room before I even touched it. But, we went over that already. I hadn't thought of it. There was a tiny bit of "before" paint left when I took the befores, so here's the colors we started with.
And here's where I stood on Monday.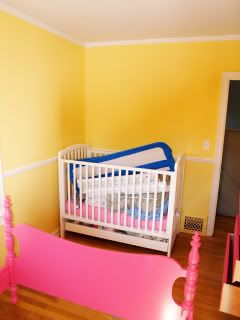 Some painting yet to do, and just general makeover chaos. The headboard and dresser are mine from before I got married (it has a nightstand too, but I'm not going to use it in this room. I have a surprise for that later). I think I bought it at a garage sale in the late 90s for $200. It was blue when I originally bought it. I painted it cream, and it was cream until I painted it this bright pink a couple weeks ago. The colors are Valspar. The yellow is Beach Umbrella from the Seaside Retreat line. The pink is First Kiss from the Creative Ideas for Color line.
And here is the room Wednesday morning.
A closer look at the drawer pulls. They are cute little animal faces.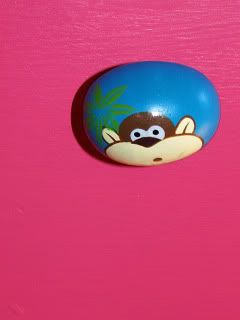 Lots more to do, but the basics are finished. Gotta work on artwork and curtains.
I plan to make some dramatic curtains. Oh man. You're either going to love this or hate this.
Wanna see the fabric? Are you sure? Maybe you shouldn't tell me if you hate it because I really like it. Reallyreallyreallyreallyreallyreally. OK?
Be nice.
Here goes.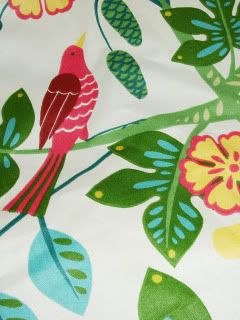 More to come on the baby's room. Stay tuned!