Ready for a quick easy tutorial?
I'm a novice, self-taught sewer, er, seamstress. Something. So this isn't hard. In fact it's SEW easy! (sorry, couldn't resist).
I knew I wanted a little more color (more? yes, more) in the baby's room, and I can sew a plain pillow in a hot second. So when I saw this fabric (Amy Butler's Midwest Modern Line), I bought a half a yard ($4.11) and promptly made this little number.
Not bad. But I wished it had a little more something. Detail. Then I thought "If I were cool I'd be able to sew a big ruffle on that". But I don't really know how to make ruffles, I didn't have much leftover fabric, I didn't want to buy more fabric ($$) and I didn't want to take the pillow apart.
Then inspiration struck.
I gathered this adorable helper. Well, not so much help as cute kid eye candy.
I took the leftover piece of fabric (18 inches, by about 5 inches) and I cut it diagonally with pinking shears (pinking shears have that zig-zaggy pattern). Then I cut around all the edges with the shears until I had two pieces that looked like this (sorry, this is a little blurry).
I put the two wide ends together, nice sides touching, and sewed them together like this.
The wide ends aren't the same width, but that didn't bother me. I was going for something sort of free form.
Next I took one of the skinny ends and folded it in half like this ("wrong" sides on the inside) .
Then I started it in the sewing machine, sewing the fold down. I'd also tuck random ruffles in the fabric every so often and sew over them.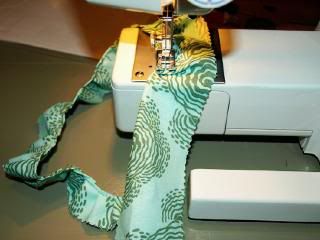 Until I had something like this.
Well, not something like that. That's exactly what I had.
What I was going for was a free form, ruffly flower shape, similar to the shape on the fabric. So I started hand sewing the ruffle onto the pillow in a spiral shape.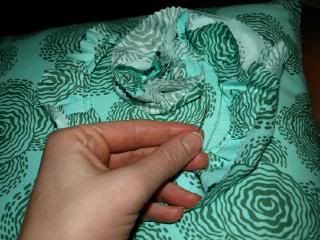 I also strategically placed stitches to keep the ruffles open, making it look more half hazard. Here I highlighted the half hazard / free form spiral.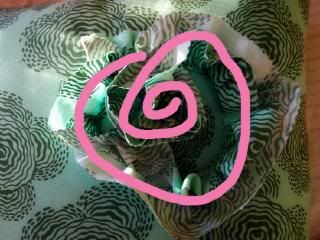 When I had it all sewed down I just knotted the thread off.
And here's the reveal!
Pretty! I'm so happy with the result!
Before.
After.
Close up.
This will probably fray with age, but that's part of the look! I think part of the reason I like this is because it's so similar to the pattern on the fabric. But I bet other fabrics would work beautifully too! Try it out yourself and show me the results!