Statement jewelry is big right now. I mean it's big, and it's BIG.
Let me say it another way. Large jewelry is currently popular. he he
I love it, but, dang, some of it is expensive. I especially love the flower jewelry (of course I would).
As I was getting dressed today in a p-l-a-i-n green t-shirt and a p-l-a-i-n black cardigan, I was thinking a cool necklace with a flower detail would be just the thing to perk up my outfit.
Except I don't own one.
WAH! I would really, really like one though... you know... in case anyone has an extra. No? Darn.
OK, then. This is what I came up with instead.
Not too shabby, right?
(PS, it's really hard to take a picture of yourself! Sorry I look pissed. I'm not.)
Here's the secret. First of all it's two necklaces. The longer one I made (very easy, don't be impressed. I'll teach you some time). The short one is 603 years old. Or something like that. It's old and it's from, of all places, Deb. You know, that mall store? I know. Don't judge.
And the flower? It's an old clip on earring. Yep.
Note to self: use moisturizer. Sheesh!
You can clip on an old earring to lots of necklaces. Try it and show me! I'll feature you.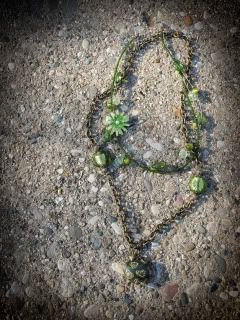 Linking to some of
these
parties.