I have a collection of old flower pins. I can't explain it, but I just love them.
It started about 5 years ago when our neighborhood had a garage sale. Our neighbor across the street is an older lady and she had two flower pins for sale. I bought them for 25¢ each and I was hooked. I started wearing them and I got quite a few compliments. So I bought more. And more. And then in the meantime flower jewelry really became "in." So I added some new ones too. But most of mine are vintage. Most are pins, but I also have quite a few earrings, one ring and one bracelet.
I just love their colors.
And their vintage-y charm.
What I need is a good storage idea. I'd love to both store them and display them--at least some of them. I think they're so cool they need to be shown off.
Do you have any ideas?
Keep in mind I have curious hands around--always!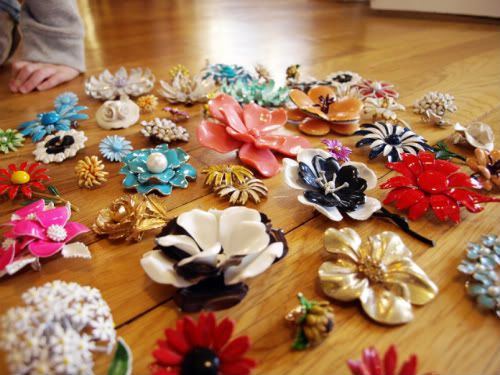 Look mom! Pretty!
Hands off mama's jewelry, boy.
Any ideas? A shadow box of some sort? A fabric colored memo board? What would make a good backer?