First a quick note. If these
features
continue it's going to start going to my head! Seriously though, I am thrilled.
Now on to business. I like to switch things up. I like to be flexible. And I like cheap. Especially when it comes to Christmas decorations, which are only up for a short time. This is not one of those tutorials where I say "Make one EXACTLY like this!" This is more of a... "Use what you have and make it your own" tutorial.
I saw this wreath at Goodwill for $2, I thought it'd a great addition to my holiday decor.
It had an ugly ribbon on it, which is probably why a lot of people passed it over. It's simple to rip off an ugly ribbon.
Yawn. But now it's a little boring, dontcha think?
So I decided to change that.
First I added a swag of berries that has been lurking in a box since the 1990s. Keep everything moving in the same general direction as the branches lay. It looks better.
I just tried to really push it into the branches for a seamless look. Then I strung random numbers of unbreakable ornaments on some monofilament line I had. This kind is meant for jewelry, but you could use fishing line, or even strong black or green thread. Whatever you have on hand.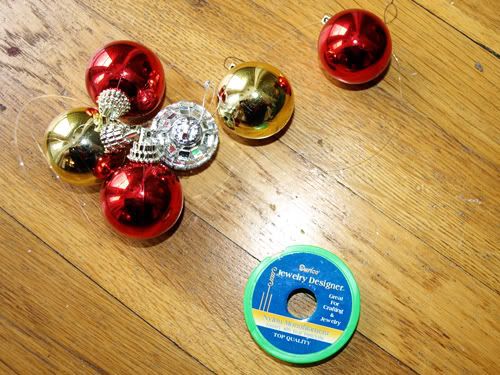 Here I began stringing them on the wreath.
For a little more bling I found an old branch of gold tipped poinsettas I bought in 1952 (Not really. That's before my parents were born). I clipped off a number of flowers and leaves and pushed them securely into the wreath branches.
And here is the final result.
Before.
After.
One of the best things abut this wreath is that in seconds I can rip everything off and reuse it all in different ways next year. YES!
In other news...
It's beginning to look A LOT like Christmas.
And also, those of you with small children may wonder what mine were doing while I did this project.
Looks perfect!
Note for the parent police: All ornaments were unbreakable.