I started this blog as a way to show how we were redoing the ROOMS in our house.
Anyone notice there's not many actual rooms on here lately?
Part of the problem is, ahem,
I don't have any done.
None. Not one. Nada. Zilch. Zero.
And as a "decorating blog", aren't I supposed to show you beautiful pictures all the time? Well when the rooms aren't done they're not very beautiful.
But that's reality, and it's almost a tutorial or sorts, too. Dontcha think? Documenting the steps I took to get a room from point A to point B to finished room (like a room is ever really "done", but you get my drift).
So with that in mind, I'm going to show a few more actual ROOMS in the coming weeks. Imperfect, torn apart, wrecks of rooms. And the first one... WOO, it's a doozy my friend. It's the basement. Part of our basement was (mostly) finished when we moved in. The previous owners used the finished part as a play room. My kids are still so young (too young to be alone on another floor in my opinion) and we have a good spot for all their toys (the family room, or toy room as we now call it), so this room is up for grabs in terms of use.
I can't hold it in any longer!
I'M GOING TO TURN THE BASEMENT INTO A MOM CAVE. Could you just die?! I know. It's a luxury I can't even fully comprehend right now. But. It. Is. Going. To. Be. AWESOME. I already have it all planned out in my head. It is going to kick booty.
But it doesn't kick booty yet. In fact it kind of sucks. Here is where it started. Yellow walls, the brightness of which doesn't fully translate in pictures. Green painted concrete floors, some forlorn exercise equipment and a whole lot of mess.
Yikes. Sorry about that. But I have to show you how much it sucks now, so you can appreciate how cool it will be later!
This closet is unfinished and apparently is a graveyard for our crap.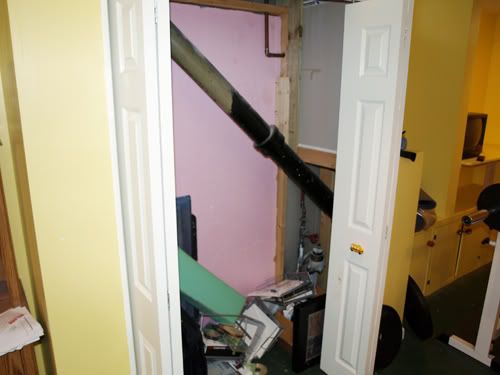 The built in unit above truly sucks. It's poorly constructed and the doors just sort of... hang. There are nooks and crannies and angles that make no sense. It's all coming out.
This will be my little work corner. Most of this junk is going to get beautified and stay. The wolf-eagle weirdo print was Mr. RBR's before we got married. You can make fun of him if you want. I do.
A closer look at the junk.
Oh gorgeous junk. You are going to look so cool in this room!
When thinking about how this room was going to look in the end, at first I thought I'd do it soft and feminine, kind of like Centsational Girl's office. But then I remembered I had this kick butt Charles S. Anderson poster series from a paper promotion half a lifetime ago. I have never used them, but always loved them. Now I'll have the perfect spot.
So while I think I'm going to take some color inspiration from Miz CG, mine will have a funky modern edge.
I started this room makeover by making my own paint color. I mixed together every gallon of flat or eggshell white or cream we had in the house in a five gallon bucket. I added in a little green and gray and got my wall color. I've painted all the trim bright white, and I love how it's turning out. So crisp.
Just remember in renos, it always looks worse before it starts to look better.
There's a little nook built into this room, and I think it's the perfect spot for an accent wall. I painted this some leftover Smoke Infusion by Valspar. I was surprised at how close the two colors were!
That's all for now. Stay tuned for big changes!
The good news is, I have a lot of rooms that are this close to being finished. So hopefully I'll get those suckers done and I'll be able to show you more beautiful, finished rooms too.