Mr. RBR jokingly (sort of) calls my mom and me Sanford and Son. You know, the sitcom about a junk dealer and his grown son?
My mom and I looooove junk--when I say junk I don't mean garbage. I mean cool old stuff. And we love decorating too. You could say... it's genetic. Mr. RBR would say it's a genetic disorder.
In fact my mom owns a store--actually two stores--with her sister. The stores are connected. One store is an antique mall. People rent out booths and sell their finds.
The other store--it's ALL my mom and aunt's finds.
There are stores that have fabulous vignettes, where they lay out for the customer exactly how an item can be used. My mom's store isn't like that. You have to DIG for your prize. ha! Don't believe me? Here's some pictures. It's literally stacked to the ceiling with fun, funky, cool, old... stuff.
Good thing this store is in a different city than I live in. I'd be in real trouble if I were closer. The antique mall side has cool stuff too. These two vignettes reminded me of some bloggers I follow.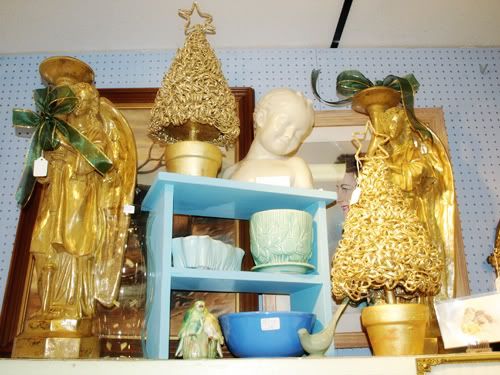 What do you think, am I nuts? ha!
Anyway, I do wonder if my mom and my love of all things decor is genetic. Afterall we look alike, sound alike, we enjoy doing many of the same things. We even dressed alike on accident this Thanksgiving. Seriously. Almost identical. EMBARRASSING.
The reason I wonder about this is because of MY family. You see, not all of my children are genetically related to me. And this Christmas one of my sons started holiday decorating with an enthusiasm that really touched my heart.
He made this wreath with his own hands, and then tried it in several locations before finally settling on the back door.
And then he came up with the idea all on his own to hang a single ornament on EVERY SINGLE DOORKNOB in the house.
And then he primped the tree just so. Going back again and again until the ornaments were just where he wanted them. Can you see his little heart bursting with pride over what he created?
Yeah. It's not Clayton, my biological son. It's Zack. Zack was adopted. And from somewhere (his biological parents? me?) my son is starting to find the inspiration to decorate. And he is loving it.
I am too.