First of all, I think it is HILARIOUS that my
"bird poop printable"
is the #2 viewed post of all time on my blog. And yet hardly anyone comments on it. Why is that?
I revealed my precious daughter's room
yesterday.
Today we'll go over the items and figure out what I spent. I have no idea, so this will be good for me to review.
Here are some pictures.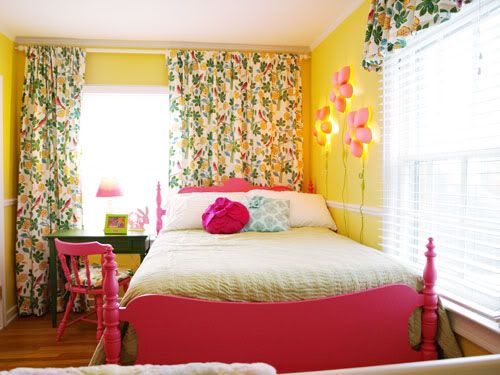 The pink furniture was mine from my single days. Originally purchased from a garage sale, it was blue, and I painted it cream. The set got this special pink makeover just for Delaney. The original nightstand to this set is actually in my (the master)
bedroom.
Vanity and chair. Vanity was from a second hand store.
Here
is what it looked like before. It was $30. The chair was just a "spare" that used to float around the house. The cushion was existing, I just covered it with leftover fabric and some ribbon that was lying around.
On top of the vanity is a pretty bunny. $2 from Goodwill.
I made the picture. I bought a frame for $1 from Salvation Army, painted it and made the print (about $1 to print at FedEx).
Can't see it very well, but the lamp was on clearance from Target. $10 I think. And perhaps another $5 for the shade?
Bedspread was existing. Originally on clearance at Target. We used it when this was my middle son's room. We used it on the other side, which is blue.
White sheet set from Target. $35?
I made the pillows. Find out how here and here. We'll say about $4 for the teal one, and $3 for the pink one.
The flower lights are IKEA. I think they were $10 each, so $30 total.
The fabric (Small Talk by Waverly) was by far the biggest investment in the room. I bought 11 yards at $12 yd on sale. $132 for the statement piece of the room. Not too bad.
I made the white curtain rod with wooden supplies from Lowe's and some leftover white paint. $20.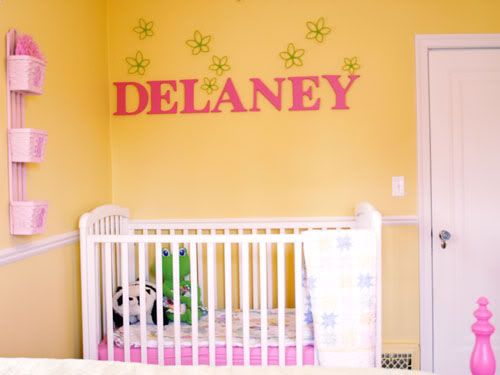 Crib and mattress were existing from other kiddos.
Crib set was "vintage" Pottery Barn bought at an auction. $35
Bright pink sheet, Target/Circo. $8
Special gift blanket from my grandma.
Lady frog, local thrift store, $2. Wearing a dress I made from fabric scraps.
Panda pillow pet, Christmas gift.
Delaney letters are from Babies R Us. $5 each I think? $35.
Flowers were left over from elsewhere in the house. Found them at Target and sprayed them green.
Pink wall basket is from a local antique mall. Found it on
this
trip. $9.
The bright animal knobs were a gift from my mother in law. She actually gave them to me years ago. They were meant for the boys, but I like them here better. I think they came from Target.
The wicker hamper is an oldie. I've had it forever. Sprayed it with some white spray paint I had laying around.
The beautiful inlaid jewelry box was a gift from Delaney's foster parents.
The little blue ceramic shoes were existing. I've had them for years. I originally bought them at a local antique mall.
Can you get over those gorgeous paintings?! Not prints. These are gorgeous paintings on... I don't know. I think it looks like silk. My mom found them years ago and didn't know what to do with them. So they are on loan here "indefinitely". hee hee Thanks mom! I added the fabric. Let's say the fabric was $10.
The Korean doll was found at an antique mall
too
. $12
Korean flag was a gift from our Korean adoption agency.
Lastly, paint. Paint colors are:
Yellow = Beach Umbrella by Valspar (2 gallons = $60. I should have primed first. I would have saved $20.)
Bright Pink = First Kiss by Valspar (1 gallon = $30)
The Vanity's Dark Green = Dark Meadow by Valspar (1 sample = $3)
I also bought 1 can of bright green spray paint and 1 can white spray paint. Let's say $10.
Let's total it up!
Furniture = $30.
Bedding = $85.
Window Treatments = $152.
Paint = $103.
Accessories = $117.
Total $487
Not too shabby!