In a couple weeks the half bath in our home got a glamorous makeover for just a little dough.
So, wanna find out how much I spent? Me too.
The biggest impact was obviously wall color. Can you believe that came in at $10?!
The white for the trim and cream was a free promotion at Menards (on sale for $11 with an $11 rebate). Well, I think the semigloss white was $2. Anyway I bought it for the kitchen, so I'm not counting it.
The dark color is Brown Velvet by Valspar (Lowes). I only needed a quart for this small room, which came to $10.
I replaced the knob on the medicine cabinet. A pretty cut glass little number for $6. Lowes.
I just about passed out when I saw the hand towel. I could not have found something with a more perfect design and color palette if I had created it myself! $10 each for the hand towels. I bought 2. World Market.
I also bought a chandelier and new wall art. This is what they looked like before.
And after a little spray paint magic....
Did you notice I painted the ceiling blue? Loving it. It's subtle, but really pretty.
I used leftover spray paint for my chandelier and artwork. Just a couple swipes and it looks totally different!
Chandelier was $12 from Habitat Restore and wall art was $40 from Big Lots.
Last but not least, a new window shade.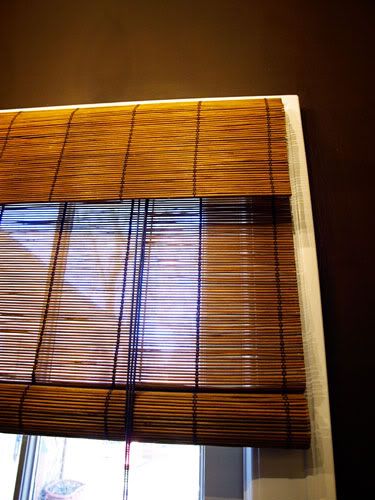 This match stick blind was on clearance for $5! From Lowes. It is meant for a french door. The shade was the right width, but was 72 inches long. Waaaay too long. Luckily I was able to shorten it and it looks great!
The total spent? $93. Under $100 for a totally new look. I'll take that!
I was in the lead, but I've dropped to #2! My logo is
option #3
. It will take 3 seconds. Thanks a bunch!