I am still amazed. We had THE MOST PERFECT WEATHER for Delaney's first birthday party yesterday. It's been freezing here all spring. We've even had a little snow. Yesterday? Oh, yesterday is was 80º F. 80º!!!! It was beautiful.
And so is Delaney. Here are some pictures from her special day yesterday.
Those flower banners are from Dollar Tree. How cute are they?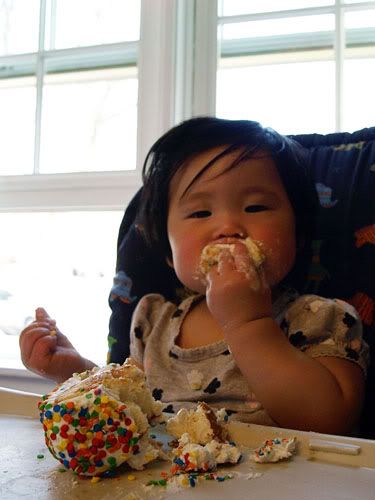 For the first time ever in my mom's family, four generations of women. So cool!
They have a fun craft contest called "The Iron Crafter". I think it is hysterical! As you might have guessed, it's patterned after The Iron Chef. They even pick a secret ingredient! Then bloggers from all over make crafts with the secret ingredient to compete for title of Iron Crafter. It's a hoot!
Well the peeps over at Fireflies and Jellybeans had a logo/button contest for the next Iron Crafter contest. And guess who landed in Top 3?
Yep, yours truly.
I'd love it if you went on over and voted for my
button
. Just for fun. Thanks a bunch!