Because powder rooms are small and often unassuming, they are the perfect place to play with the unexpected.
First of all they're often tiny. So if you've been eyeballing a high end finish (like marble tile, or an expensive wallpaper) a powder room can be the ideal place to splurge. Its small size means you won't break the bank
Secondly, it can just be a nice surprise! If you have guests and they need to use the facilities, why not provide a space with "wow" factor?
I decided a dark color in my main floor half bath would be ideal. The rest of my house is transitioning neutral, and you know I'm not afraid of bold. Heck, my kitchen is still half a rainbow. But what color to choose?
I wanted something with, dare I say, sex appeal? Am I overcompensating for my life filled with diapers and toddlers hanging on my ankles?
Hm. Mayhaps.
Nonetheless. Check out this nail polish.
Hot, right? The brand is even called "Sinful Colors". No lie!
Not brown, not purple, not burgundy, not black, but somewhere where they all intersect. I think it'd make a pretty hot bathroom.
That is how Brown Velvet came into my life.
It's hot, my friends. H-O-T. Hot. By far the darkest paint I've ever chosen. At the last minute I even got a little stage fright. But, say it with me now, it's only paint. I can always paint over it.
My house is ancient--nearly 100. And there are settlement cracks to deal with again. Old house owners call this 'character', right!? ha! This is what it looked like Saturday afternoon.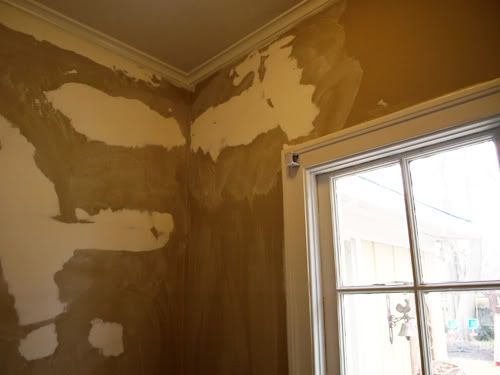 Lots of patches to deal with. Dry wall patch means you will need primer. You can't paint straight onto virgin walls. It'll look good for awhile, and then the paint will all chip off. Promise.
And then if you're painting a dark color they'll tell you to pick a tinted primer whether your walls are virgin or not.
Here's the thing. You'll only really need a tinted primer if you are transitioning from a light paint to a dark paint. I'll say that again. You only really need a tinted primer if you're transitioning from a light paint to a dark paint. In my case I started with a medium/dark wall color. I didn't feel I needed a primer. And yet I had a lot of light patches that needed primer anyway.... Did I need to buy the tinted primer? Nah. It was a small space to cover, so I made my own!
Just pour a bit of primer into a cup, then add a bit of your wall color. This is probably 2/3 primer, 1/3 wall color. TADA! Free tinted primer. It's all I needed for a relatively small area.
Are you thinking of pushing the limits with a bold color in your house? Tell me about it!
More on the half bath revealed tomorrow!