I have a serious crush on Candice Olson, and it's not just because we're the same height with similar color hair. I looooooove her designs! And I don't even hold it against her that I probably am twice her weight.
I have every show she's ever been on saved on my DVR. I was thrilled when she came out with a new show, Candice Tells All.
More eye candy. And besides, now I wouldn't have to watch the same shows over and over.
Although I totally would.
Now I just won't have to.
When Candice revealed this room, my eyes completely bugged out of my head.
It's hard to tell, but behind the sectional there's a wallpaper. It's like a giant gorgeous chrysanthemum line drawing. Of course I had to track it down.
It's called Chrysanth Neutral and it is made by a company in the UK. I have linked the website
here.
Here are some better views of the wallpaper.
It even comes in different colors, like red.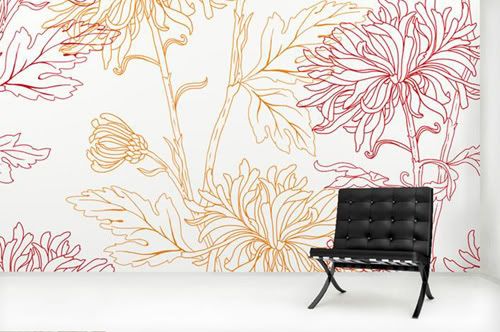 Do you know where I'm going with this?
Thinking about DIYing it. Have I totally, completely lost it?
Possibly.
But I have a history of complex paint ideas that have turned out ok.
I'm thinking I could sketch it out, and then just draw it with a metallic paint pen, kinda like the mom cave.
Eek!
I can see Mr. RBR's sigh and his head shake already.