Here's the evolution of our dune buggy, or perhaps more accurately, dune
truck
. All courtesy of Mr. RBR. He spent a lot of long days working on that thing (often in scorching heat). All I did was provide moral support. After some long days wrangling two kids all by myself, I sheepishly admit there were times I couldn't even provide that. But now I'm so happy it's to a point we can use it as a family. That was the whole idea, after all.
We do everything cheaply, and the dune truck is no exception. It started with a 1992 S-10 pickup we got for free from Mr. RBR's parents. They didn't use it anymore, and didn't even really know how to get rid of it.
So they gave it to us.
Sometimes it's kind of embarrassing that we (I especially) take other people's junk. But then I remember we have no debt except our mortgage and I get over it.
We got the truck in 2008 (or was it '07?), before we had any kids. It looked like this:
Well, not quite like that. Mr. RBR got a little demo happy and ripped the doors off before he remembered to take a picture.
After a little more demo...
Mr. RBR removed the body rust and painted it... with spray paint of course!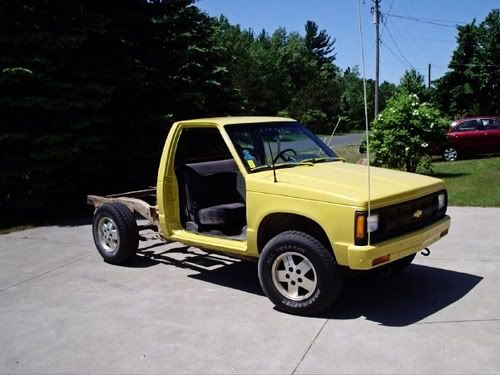 The start of a cage on the back.
New tires and a lift.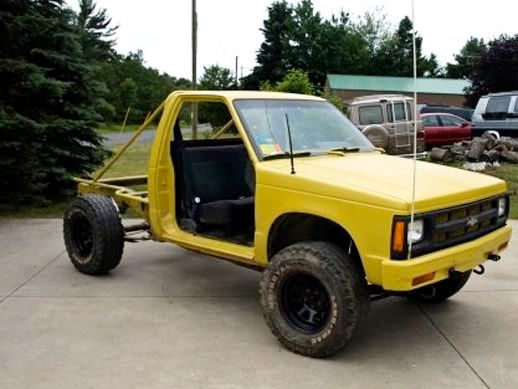 New cage.
Done.
Sometimes you just get lucky on these types of things. The truck we got for free, and the big black seats in the back we got for free too (a brother-in-law found them dumpster diving). The pipes Mr. RBR used for the cage were free too (we have family that uses them for business, and these were leftover). The brown seat in the back was a craigslist find.
Of course not everything was free. When we had a little bit of money, we'd use it for the lift, tires, etc. It took about 3 years to finish, because Mr. RBR would only work on it if we had the money to spare.
I'm pretty happy that for relatively little money, we have a pretty neat vehicle for family fun.
How about a final before and after?